---
Arizona Ghost Towns and Route 66
photography workshop

with Lynn Radeka and Fred Newman
March 30 - April 3, 2020
Open to traditional and digital photographers of any experience level
Sorry, this workshop is cancelled due to the pandemic.
We will be offering this workshop again in 2021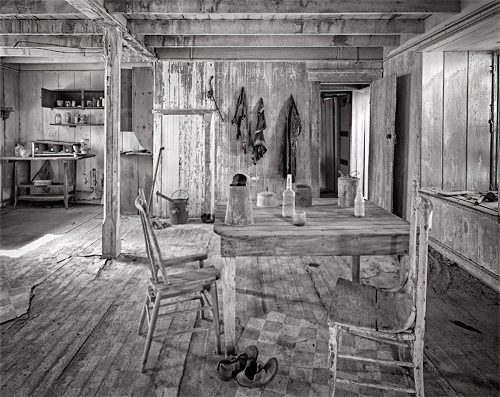 Interior, Vulture Mine, AZ. Copyright © Fred Newman

NEW DETAILED ITINERARY COMING SOON!

Please join us for our new 2020 Arizona Ghost Towns and Route 66 photography workshop! Fred Newman and Lynn Radeka will be hosting this new photographic workshop, open to all photographers, traditional or digital, large or small format, of any experience level. Late March is usually an ideal time for exploring these abandoned places and historic towns in central Arizona with daytime and evening temperatures being ideal. A unique American West experience for the ghost town and historic places afficianado or for the photographer desiring to improve his or her skills.

Ghost towns and photogenic towns such as Globe and Copper Hill, as well as historic and visually stunning Jerome and Vulture Mine, will be included in this workshop. Taking historic Route 66 through Winslow and the highly photogenic ruins and colorful graffiti of Two Guns will provide photographic opportunities for the casual or serious photographer.

Motels and restaurants are available near all locations. This workshop will not require any long distance or strenuous hiking.

Please check back frequently for updates to our itinerary and feel free to email Lynn Radeka if you have suggestions on potential locations. Contact Lynn Radeka
Ruin at the Massacre Cave, Two Guns, AZ
Copyright © Lynn Radeka.

Proudly sponsored by:
ProgreyUSA, finest filters and holders
and The View Camera Store
This workshop is open to all photographers whether shooting large or small format black and white or color, film or digital! No photographer will be rushed regardless of his/her film format or digital format and experience level. We have seen too many workshop hosts rush the participants simply to run to the next destination.
Meals are not included. Please inquire about any special concerns or limitations.
The workshop flow will be largely determined by the needs and desires of the workshop participants, ensuring a very enjoyable experience for everyone.

Abandoned House Interior, Bisbee, AZ. Copyright ©Fred Newman
Lynn will be handing out durable viewing cards (an aid in visualizing compositions) to everyone. He will be assisting attendees in obtaining the best exposures and zone system methods, previsualization, exposure, development, view camera controls, digital techniques and selection of filters. Fred will be teaching BTZS (Beyond The Zone System) methods for exposure and development based on techniques pioneered by the late Phil Davis. All participants will be given a discount code for products from ProgreyUSA (world class filters and filter holders) and from the View Camera Store.
This photography workshop will also teach the use of contrast masking in your previsualization routine. This will help traditional photographers learn how to previsualize images with the intent of applying contrast masking (or other specialized darkroom procedures) to the final prints. Surprisingly, this often results in images being shot that otherwise might be passed up due to lack of local contrast on the scene or elements that aren't well separated from surrounding detail. The intended use of masking can alter the exposure and development given to the negative.
Tag-alongs are not allowed on this workshop except for spouses. This workshop is limited to ten paid participants. Please see the signup details below.

Storm Over Jerome, AZ. Copyright © Lynn Radeka
About Lynn Radeka
Influenced in his early work by Ansel Adams and Wynn Bullock, Lynn Radeka's professional photography career spans fifty years. His love of the grand landscapes and intimate details of the American West was born on his first trip to Death Valley in 1966.
Lynn Radeka's Black and White photography has been featured in eight National Park posters and several calendars including the calendar series Radeka: The American West and several ghost town calendars published by Browntrout publishers. In 1989 and 1990 he was commissioned to do the photography for five full-color books, resulting in a 2 year journey that took him through the back roads, historic places and ghost towns of the entire American West. Lynn also has the honor of being a featured photographer in the book publication "World's Top Photographers: Landscape" and has been published in B&W Magazine, View Camera Magazine and other photography publications.
Lynn Radeka currently teaches workshops in Death Valley, Utah and New Mexico, and Contrast Masking workshops in his home darkroom in California. He is the producer and co-author of the Contrast Masking Kit - a technical manual for traditional film-based photographers. Lynn feels completely at home using a 4x5 view camera for his film-based work and more recently a Sony A7R mirrorless camera for his digital work.
Please visit the bio page of this website for more information.
About Fred Newman
Photography has always been part of Fred's life. Both Fred's parents were photographers at one time in their lives. As a teenager he visited the Museum Of Modern Art with his father and was deeply influenced by viewing original prints by the masters, from Carlton Watkins to Edward Weston.
Fred's other early influences were Henri Cartier-Bresson and Oliver Gagliani, who helped shape his interest in landscapes, abandoned places, graffiti and abstracts. His photographic philosophy follows that of Ansel Adams: "The negative is the score and the print is the performance".
In the 1980's Fred had his work published in major equestrian publications during which time he added color processing and printing to his black and white darkroom. Fred also began writing technical photography articles for Photo Techniques magazine including an article describing the workings of a Fuji infrared camera.
In 1994 he bought a business called The View Camera Store, which he still operates, selling large format photography equipment and Leica cameras. Also in the mid-90's Fred began teaching photography workshops with photographer and author Phil Davis.
The sponaneity of Fred's early street photography shaped how he sees the world today. He feels the subject being photographed "finds him". His inspiration comes from recognizing how light defines his photographic subjects, whether it is a meaningful landscape or something abstract.